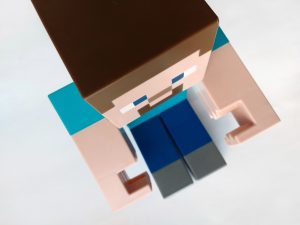 Today in class, we had a guest speaker Heidi and a few of her students from Colquitz come and introduce our cohort to the world of Minecraft! This was exciting for me because I could finally know what all the kiddos at after school care were talking about when they chatted Minecraft. Beyond learning about the game, Heidi introduced us to many educational purposes Minecraft could be used for. I was apprehensive at first but after she gave us some insight on what she has used it for, I was convinced. As educators, I think it is very important to keep our teaching relevant in hopes of keeping our students engaged and providing them with agency in their learning. Minecraft is a great way to intertwine technology, curriculum, and fun in one lesson! This video game seems to be a great way of increasing collaboration and social skills within the classroom. As Heidi mentioned, there was rarely a quiet moment in the tech lab when they were working on Minecraft. She found that her students were constantly discussing and sharing ideas within the game and outside of it. Minecraft also encourages students to think critically and creatively. Learning survival skills and building mechanisms in alternate dimensions provides students with opportunities for self-expression and exploring creativity.
Minecraft offers multiple opportunities for curricular integration. After exploring Mindcrafts educational website, I found a couple of great lesson plans that I could see myself incorporating into my classroom one day. One lesson in language arts caught my eye because it also allows for cross-curricular opportunities in science. It also had a nice age range that could be used for children 8-13 years old depending on how you modify it. Another great lesson I found was in math and it tackles the concepts of area and volume. Personally, math was difficult for me and I never found myself excited to do it. I think that if I maybe had the opportunity to learn math through Minecraft, it would have changed some of the experience for me.
However, not everything is glitter and gold. It is important to look at some of the downfalls of using Minecraft as an educational tool in the classroom. In knowing some of the cons, educators can be aware of what to look out for and modify to prevent them from being a problem. Minecraft can be a time warp and there is potential for students to become obsessed with it. This is important to recognize, especially when we are entering a time when parents are very conscious of their child's screentime and intake. Another con is the potential for students to not stay on task and not use Minecraft in the educational purpose it is intended for. Lastly, while teachers do have control over conversations within Minecraft, there is still potential for bullying to occur within the game or outside of it. In knowing all of this, educators can watch closely and monitor their students to ensure everyone feels comfortable and is enjoying their learning through Minecraft. I hope I have access to Minecraft Edu at my future school as it is a tool I could see myself using to enhance my lessons. In the meantime, I better get practicing so I can know what I'm doing!