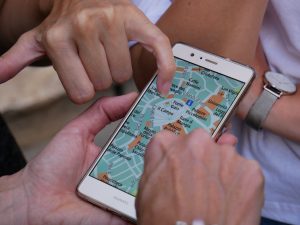 Clara, Lily, Cassidy and Jahniaa explored Google: My Maps! 
So what is Google My Maps?
The difference between Google My Maps and Google Maps is that it allows you to create custom maps connecting you to the places that matter most! 

Custom maps are stored to your Google Drive account

Maps can only be viewed when shared with other people
Educational Benefits:
Google My Maps is a tool that may be overlooked in the classroom but could bring many different benefits! From our research, we found the following could be subject areas that would profit from the use of My Maps:
Social studies/Geography (Emergency preparedness plan, environmental awareness)

Place-based learning (Learn about the local environment and how that compares to other environments)

Mathematics (Distance, word problems, equations, and problem-solving)

Community involvement (Research where local amenities, buildings, halls, schools, shopping centres, etc. are in comparison to other destinations)

Social connections and knowing your surroundings

Field trip/trip planning (Show students what goes into planning for a trip and involve them into learning about where they will be travelling/the distance they will go/what means of transportation they will be using
Privacy and Security:
Some of the privacy and security policies that Google has in place with My Maps includes:
Street View Imagery is Not Real-Time: imagery is collected over many years
Google takes steps to protect the privacy of individuals when Street View is published to Google Maps by blurring 

Inappropriate Content can be reported 

Intellectual property violation – Google does not allow images or content that infringes on anyone else's legal rights (including copyright)
Pro's & Con's:
Con: 
Sharing of personal location

Limited application 

Time-consuming 

Challenging tool for younger student
Pro's
Creates learning opportunities (listed above)

Helps students feel connected to peers and the world around them 

Interactive learning 
Map away! Discover today!